Garden Weather
The Goose Lake Weather station is located in USDA plant hardiness zone 5a. The predominant soil types are 69A—Milford silty clay loam, and Bryce, shale substratum-Calamine silty clays.

Interested in determining the soil types in your backyard? Check out the USDA/NRCS Web Soil Survey page.
Grundy County CoCoRaHS Precipitation Map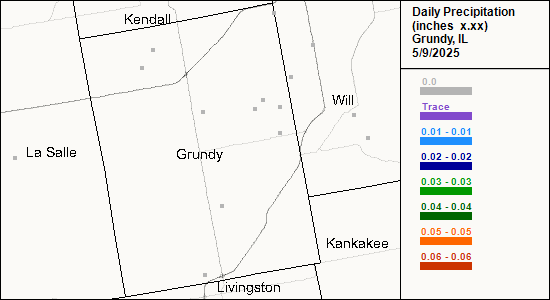 Illinois CoCoRaHS Map
Illinois CoCoRaHS Google Map
Learn more about CoCoRaHS
Astronomical Information
| | | |
| --- | --- | --- |
| Sunrise | Sunset | Available Daylight Hours |
| 5:23 am | 8:17 pm | 14:54 |
Soil Information
Soil data last updated:5/28/2017 7:00 PM
Soil Temperature1
Soil Moisture2
Frost Depth3
Grass Minimum
Temp4
Minimum
Air Temp
4 inch: 70°F
Max:70°F Min:65°F
4 inch: 132.0 cb
0 inches
58.0°F at: 4:08 AM
56.3°F at: 5:04 AM
12 inch: 65°F
12 inch: 200.0 cb
24 inch: 61°F
24 inch: 200.0 cb
36 inch: 58°F
36 inch: 2.0 cb
1Daily maximum and minimum 4 inch soil temperatures since midnight.
2Soil moisture is measured in centibars(cb).
Note: When the soil moisture sensor is frozen, it will read approximately 200 cb.
3Read manually from a frost tube.
4The grass Minimum Temperature is the lowest temperature recorded since midnight in open air on short turf, with the thermometer just in contact with the tips of the blades of grass. It is also described as the temperature at 5cm (2in) above ground.
Centibar Reading
Soil Condition
0-10
Saturated Soil (field capacity).
10-20
Soil is adequately wet (except coarse sands which are drying out at this range)
30-60
Usual range to irrigate or water (except heavy clay soils). Irrigate at the upper
end of this range in cool humid climates and with higher water-holding
capacity soils.
60-100
Usual range for irrigation in heavy clay soils
100-200
Soil is becoming dangerously dry for maximum production.
| | |
| --- | --- |
| | |
| 4 Inch Soil Temperature | 4 Inch Soil Moisture |
Soil Temperature Extremes for Current Month and Year
data last updated:5/28/2017 7:00 PM
Sensor Depth
Month
Year
4 inch
Max: 73.0°F on 5-18-2017
Min: 48.0°F on 5-3-2017
Max: 73.0°F on 5-18-2017
Min: 24.1°F on 1-8-2017
12 inch
Max: 66.9°F on 5-18-2017
Min: 51.1°F on 5-3-2017
Max: 66.9°F on 5-18-2017
Min: 32.0°F on 1-8-2017
24 inch
Max: 62.1°F on 5-18-2017
Min: 52.0°F on 5-5-2017
Max: 62.1°F on 5-18-2017
Min: 35.1°F on 1-13-2017
36 inch
Max: 59.0°F on 5-21-2017
Min: 53.1°F on 5-10-2017
Max: 59.0°F on 5-21-2017
Min: 39.0°F on 2-11-2017
Rain/Evapotransporation/Leaf Wetness
Rainfall
Evapotransporation
Leaf Wetness*
Today: 0.00 in
Today: 0.17 in
Current reading: 0
Month: 3.77 in
Month: 4.40 in
Above rainfall data from automated gauge, not accurate for snowmelt water equivalent
*Leaf wetness ranges from 0 dry to 15 wet
| | |
| --- | --- |
| | |
| Daily Evapotranspiration | Leaf Wetness |
Precipitation Past 12 Months
Forecast Rainfall
forecast rainfall data provided by NOAA
Monthly Climate Data for the Upper Midwest
data courtesy
The Midwestern Regional Climate Center (MRCC)
Long Range Outlooks
Other Ag Related Info